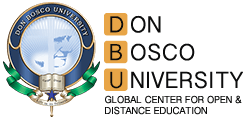 In response to the Global Corona Virus COVID-19 Outbreak, our teams across offices are taking graded steps to minimize exposure to all team members and all other parties with whom we have daily interaction. While there should be no impact on most online processes, you may experience delays in offline processes, including approvals, shipping etc. We're sure that we shall have the full co-operation and support of our Student Community as we navigate this situation. Stay Safe!
DBU Global, Assam Don Bosco University, Airport Road, Azara, Guwahati , India 781017
Master of Arts (Education)
The Master of Education examines concepts in educational administration and management, from theories and models of organisational behaviour to understanding change processes and their effects on organisations.
The student will research a range of human resources development and management issues and their relationship to other developments in education, the economy and society. They will develop skills in the analysis of policy developments and of factors affecting the implementation of human resources and management policies.
The program allows the students to evaluate alternative policies and practices, understand theories and models of evaluation and develop research skills related to the use of key information technologies and academic writing.
Eligibility
Graduate in any stream with 50% in the aggregate.
Program Duration
The course is made up of 4 semesters which may be completed within a minimum duration of 2 years and a maximum duration of 4 years.