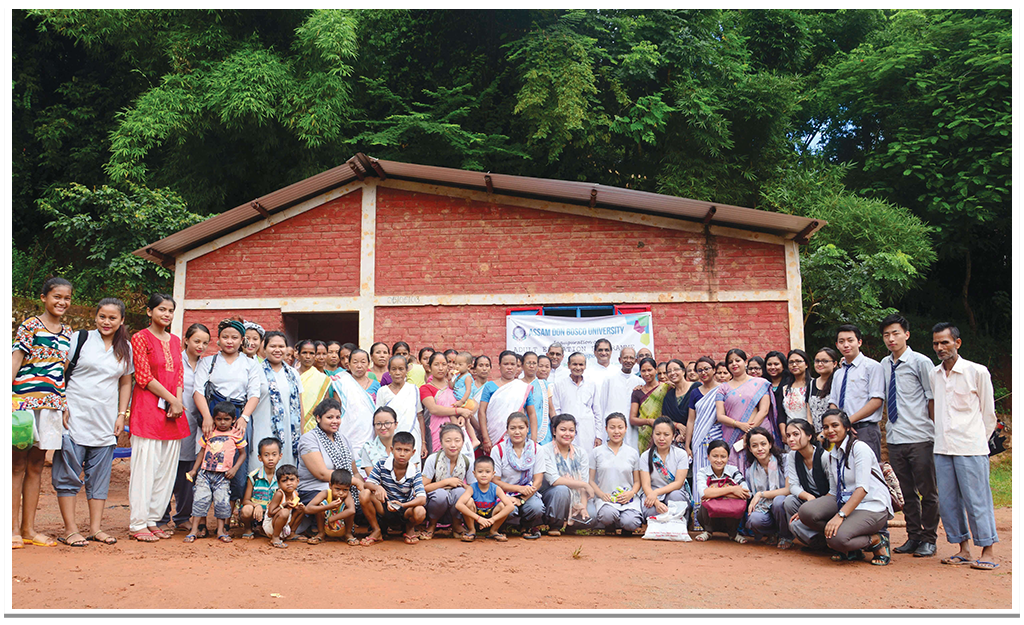 Since inception, the university has been reaching out to the needs of the community. The Center for Development Studies and Initiatives is the apex coordinating body for that.
The university, contributing to SDG3, provided life skills sessions in Child Care Institutions (CCIs). 816 youths attending the North East NSS Festival, and National Integration Camp 2019 organized in collaboration with NSS, enhanced their psychosocial competence through such sessions. 164 students were inducted on maintaining hygiene practices through Wash Programme, and33 children living inCCI received free eye screening.Also, home visits, psycho education, awareness programmes on health issues were organized.
For SDG 4 and 10,150 children were provided free tuitions and personality development session through Swastyayan and Prajjwal. "The World of Science", ascience awareness programmefor school students is organised yearly.23 Anganwadi Centerswere renovated in collaboration with the University College Dublin Vounteers Overseas promoting Early Childhood Education. A Computer Center (15 PCs) was established for community children and members to have E-education, and 238 unemployed youths enhanced their skills through Skill Development Programmes,Swabalamban.
To promote SDG 5 weobserve the International Women's Day by engaging with community women, skill training in Digital Literacy, Housekeeping and Digital Awareness Skills (for around 90 women).22 women were trained on clothbag-making, and some were trained on Mushroom Cultivation. Besides, 119 children (majority girls) enhanced their drama skills to give them a voice to express themselves.
"Nurturing Friendship through the Power of Green"(2019) was organized where students, staff, and neighbouring villagersplanted tree sapling alongside the "Dreamer's Lane" and "Poet's Lane".
As crisis response,700 flood victim families were helped with food packets (2016 and 2017), 500 children were provided with stationery kits (2017), INR 1,00,000 was mobilised by students and faculty towards flood relief efforts in Kerala (2018), 600 "Dignity and Hygiene Kit" were distributed to flood victim adolescent girls in Assam. In 2020, A few students and faculty members launchedCovid-19 tracker and information website that features latest news articles on Covid-19 in Assam, https://covid19assam.in, Academic Block 2 was utilized by the Government as a CoVID Care Centre (350 beds).889 food packets were distributed to poor families, 135 hand-made cards designed by children in an orphanage were distributed to frontline workers.Tele-counselling sessions through DHARA HELPLINE was initiated. There was Official YouTube Channel ADBUGuwahati on the strategies to take care of mental health during this Pandemic.
These humble efforts have bagged few awards, viz.,'University of the Year' Award by FICCI (2018), the Most Engaged University of the Year 2020 Asia Pacific Award by ACEEU, Science Park, Netherlands, 7th eNabling North East Award 2019-2020 and winner (among the top 5) for the Unnati Ki KahaniChitro Ki Jubani given by the Unnat Bharat Abhiyan (2020).
The University is institutionalizing Service Learningas a Credit Course where students not only contribute to the development of the society but also their own growth as they learn to integrate the academic component in the services they render.