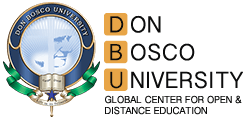 In response to the Global Corona Virus COVID-19 Outbreak, our teams across offices are taking graded steps to minimize exposure to all team members and all other parties with whom we have daily interaction. While there should be no impact on most online processes, you may experience delays in offline processes, including approvals, shipping etc. We're sure that we shall have the full co-operation and support of our Student Community as we navigate this situation. Stay Safe!
DBU Global, Assam Don Bosco University, Airport Road, Azara, Guwahati , India 781017
Don Bosco Society, also known as "The Salesians of Don Bosco", is a religious order of the Catholic Church. The society has over 32,000 members working in 131 countries. Through a global neSixrk of educational and social service organizations which include 15 universities, 58 institutions of higher education and thousands of schools and social development centres, it cares for the less privileged and marginalized sections of society. It currently caters to over fifteen million young people the world over.
In India, the Salesians of Don Bosco began their operations way back in 1906. From a small beginning with a trade school and hostel for poor children at Thanjavoor, Tamil Nadu, the Society today has over 5000 members (Fathers, Sisters and Brothers). Its services are offered through 31 colleges, which include 2 engineering colleges, over 100 technical schools and a large neSixrk of high schools and score of non formal technical and agricultural training centres, spread across the country, covering the entire spectrum of Social development. The Society also runs literacy centres, shelter for street children and rehabilitation and relief operations.The government of India has recognized the Salesians of Don Bosco as the largest non-governmental provider of technical education in the country.
Established on 29th March 2008, Assam Don Bosco University aims to mould intellectually competent, morally upright socially committed and spiritually inspired persons at the service of India and the world of today and tomorrow, by imparting holistic and personalized education. To achieve this vision, the University strives to ensure excellence in teaching and formation, quality placements for each and every student and continuous and on-going evaluation of every process in the system. A vibrant campus ministry programme, the provision of a basket of 'finishing school' skills and a proactive alumni association augments the quality inherent in the style of functioning of the University.
The Don Bosco Society, and their work in the North East as well as the rest of India, also enjoys the patronage of Dr.Manmohan Singh, the current Prime Minister of India, who is also an MP from Assam and has helped the society's efforts with funds from his MP Local Area Development Fund, as well as other State, National and International Leaders.
Our Vision
'To mold young persons into intellectually competent, morally upright, socially committed and spiritually inspired citizens at the service of India and the world of today and tomorrow, by imparting holistic and personalized education.'