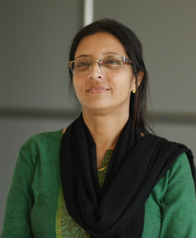 Dr. Riju Sharma
Director
Director's message
It gives me immense pleasure to be able to reach out to you and introduce you to the Don Bosco family. The Don Bosco institutions all over the world have carved a niche for themselves in the field of education. We, here at the Institute of Social Sciences, Assam Don Bosco University, are committed towards creating an environment enabling growth and fostering change in the region.
We focused on socially relevant issues and play the role of a catalyst in bringing about the desired changes and developments in the society.
Keeping in line with our vision we have introduced courses which cater to the needs of the society to mould students with the perfect blend of professionalism integrated with a humanistic approach. We shape young minds to explore, expand and develop analytical and critical thinking and investigate into human conditions. As social scientist they require to identify and move the society towards a way forward.
We have a highly qualified and dedicated team of faculty, who constantly guide and support the students during their campus life. The team of Don Bosco Institute of Social Sciences envisions a world which ensures social justice and dignity for all and I invite you to join us and be agents of change and together let us make this world a better place to live in.
Introduction & overview
Don Bosco Institute of Social Sciences, situated at the Azara Campus, aims at enhancing human knowledge in all spheres of Social Sciences through academic programmes, research studies and extension activities. The Department of Social Work has a clear objective of enabling young men and women to study the social issues and problems of the country and empowering a team of committed professionals - social workers, community builders, health activists, counsellors and facilitators. The remaining three departments of Psychological Counselling, Educational Leadership and Child Rights address key areas of today's society and bring about enabling interventions.
Vision & Mission
To train individuals who are theoretically sound, professionally skilled and culturally sensitive as they seek to improve the quality of life for everyone they work for and work with. They will be agents of social transformation and community development wherever they find themselves in the world.
Year Established: 2011
Programmes of Study
Masters in Social Work
Masters in Psychology (Psychological Counselling)
Masters in Human Rights (Child Rights & Development)
Masters in Education (Educational Leadership)
Masters in Mass Communication
Teaching Methodology
Apart from the class room inputs the semesters of all the programmes are packed with workshops, seminars, conferences and exposure trips which allow the students to explore, assimilate and conceptualize issues and realities from various dimensions and develop clarity and better understanding.
There are extension programmes of the institute like literacy programmes and community development programmes which are initiatives of the students and are facilitated by the teachers. This is a unique opportunity for the students to get involved in project formulation and implementation during their course of study. Networking and advocacy is a strong tool of the institute to bring about transformation. The institute collaborates with Government and non-governmental organizations in areas requiring change and intervention.