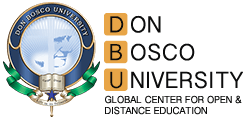 In response to the Global Corona Virus COVID-19 Outbreak, our teams across offices are taking graded steps to minimize exposure to all team members and all other parties with whom we have daily interaction. While there should be no impact on most online processes, you may experience delays in offline processes, including approvals, shipping etc. We're sure that we shall have the full co-operation and support of our Student Community as we navigate this situation. Stay Safe!
DBU Global, Assam Don Bosco University, Airport Road, Azara, Guwahati , India 781017
In order to secure admission into Assam Don Bosco University course you will need to pay the Installment amounts as detailed on your Admission letter issued to you.
Following Are The Ways In Which You Can Pay The Course Fee
Online, Using your Credit /Debit card or Internet Banking
Offline, Through Swift / Telegraphic Transfer / Bank transfer
We recommend that you send us the payment transfer document (if going for an Offline transaction) as soon as the payment is facilitated.This would help us ensure that your money reaches us securely and is updated in the Application Portal in the fastest possible time.
Bank transfers can be sent direct from your bank to Assam Don Bosco University's bank account, details are as follows
Account Name Assam Don Bosco University
Bank Name HDFC Bank
Bank Address Word no. 7, A.T. Road, Near Maligaon Chariyali, Guwahati, Kamrup, Assam
Account No. 228 214 500 00148
Type SB-Trust
MICR 781240009
RTGS/NEFT IFSC HDFC0002282
SWIFT CODE HDFCINBBCAL
When making your deposit payment / filling in the transfer form, please ensure you include your full name, date of birth,address etc. In addition to the above, you must email [email protected] to notify us of your payment.
If you have any queries about any part of the enrolment process, our Student Service Team can aid you with any additional information on the service and its benefits and/or walk you through the process. For any of the above or any other related queries please contact us at the following numbers:
Contact details
Phone : 0361-2139291/92