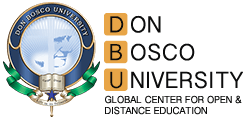 In response to the Global Corona Virus COVID-19 Outbreak, our teams across offices are taking graded steps to minimize exposure to all team members and all other parties with whom we have daily interaction. While there should be no impact on most online processes, you may experience delays in offline processes, including approvals, shipping etc. We're sure that we shall have the full co-operation and support of our Student Community as we navigate this situation. Stay Safe!
DBU Global, Assam Don Bosco University, Airport Road, Azara, Guwahati , India 781017
Master of Business Administration
The Program is specifically designed for practicing managers in large or small corporate entities, executives in public enterprises and others in mid-managerial cadres. The DBU-Global MBA Program is a tightly scheduled and highly structured, student-centered program that aims at developing in the participants a thorough insight into both the conceptual basis as well as the practical skills involved in Management. The curriculum is based on feedback received from some of the best programs available and aims to enrich and sharpen the managerial skills of participants, to keep them abreast with the latest in the world of business and to help them appreciate and understand better the recent innovations in the discipline.
Students can choose to major/specialize in an area of their choice, drawing from a range of specializations in the following areas
Areas of Specialization
Project Management
Supply Chain Management
Operations Management
Human Resource Management
Finance Management
Marketing Management
Eligibility
A graduate in any stream from a recognized University.
Program Duration
The course is made up of 4 semesters which may be completed within a minimum duration of 2 years and a maximum duration of 4 years..