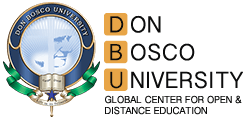 In response to the Global Corona Virus COVID-19 Outbreak, our teams across offices are taking graded steps to minimize exposure to all team members and all other parties with whom we have daily interaction. While there should be no impact on most online processes, you may experience delays in offline processes, including approvals, shipping etc. We're sure that we shall have the full co-operation and support of our Student Community as we navigate this situation. Stay Safe!
DBU Global, Assam Don Bosco University, Airport Road, Azara, Guwahati , India 781017
Recognition & Accreditation
University Accreditation
The Assam Don Bosco University , a State Private University , Established by 'The Assam Don Bosco University Act' of the Government of Assam (No IX of 2009), passed in the Assam State Legislative Assembly in 2009 , is recognized by the University Grants Commission (UGC ) of India, as well as the Distance Education Council, India (DEC). ADBU is also recognized and a member of the Association of Commonwealth Universities , ACU, UK, giving it International Recognition.
India
"University Grants Commission UGC Grants Recognition to Assam Don Bosco University under Section 2 (f) of the UGC Act, 1956 . October 2009"
International
"Association of Commonwealth Universities Listing"
Recognition For The Don Bosco Society
The Don Bosco Society, and their work in the North East as well as the rest of India, enjoys the patronage of Dr.Manmohan Singh, the former Prime Ministers of India, who is also an MP from Assam and has helped the society's efforts with funds from his MP Local Area Development Fund, as well as other State, National and International Leaders.