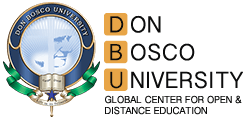 In response to the Global Corona Virus COVID-19 Outbreak, our teams across offices are taking graded steps to minimize exposure to all team members and all other parties with whom we have daily interaction. While there should be no impact on most online processes, you may experience delays in offline processes, including approvals, shipping etc. We're sure that we shall have the full co-operation and support of our Student Community as we navigate this situation. Stay Safe!
DBU Global, Assam Don Bosco University, Airport Road, Azara, Guwahati , India 781017
A Graduate Degree is the first step you take towards a professional career. Most corporates and employers today require their employees to have at the minimum of a Graduate Degree or Diploma, to be eligible to apply.
If , after school, you've chosen to work full time while pursuing your graduation on a part time basis, or , as many others, have had to take a break in your education , you can choose one of our Graduation Degrees to get you back on track.
Your choice of a Graduate Program sets the base for your career in the future, as well as any Post Graduate studies you choose to follow later. Choose between a Management Degree, the Bachelors in Business Administration (BBA) , or an IT Degree, the Bachelors in Computer Application.