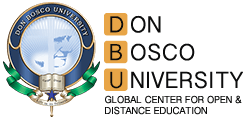 In response to the Global Corona Virus COVID-19 Outbreak, our teams across offices are taking graded steps to minimize exposure to all team members and all other parties with whom we have daily interaction. While there should be no impact on most online processes, you may experience delays in offline processes, including approvals, shipping etc. We're sure that we shall have the full co-operation and support of our Student Community as we navigate this situation. Stay Safe!
DBU Global, Assam Don Bosco University, Airport Road, Azara, Guwahati , India 781017
Master of Science in Information Technology
A Master of Science in Information Technology (abbreviated M.Sc. IT, MSc IT or MSIT) is a two- year professional Master's degree in information technology. The MSIT degree is designed for those managing information technology, especially the information systems development process. The course of study is concentrated around the Information Systems discipline. The degree typically includes coursework in both computer science and business skills.
The Masters in Information Technology will prepare graduates to apply technology to real-world systems and problems. In addition to learning fundamental business applications, one will gain specialized skills specific to the IT industry. This combination of contemporary technical and management knowledge will provide a specialized skill-set that one will rely on now and throughout one's professional career.
A Masters degree in Information Technology is highly valued by many employers seeking professionals with advanced degrees in the field of technology, practical leadership abilities and a broad technical understanding of emerging technologies in the IT field.
Eligibility
Candidates who have done BE/B.Tech /AMIE/B.Sc(C.Sc)/B.Sc (IT)" to 'BE / B.Tech / AMIE / B.Sc (C.Sc) / B.Sc (IT) from a recognized University or Bachelors Degree in any Discipline with more than two years of experience in IT industry.
Program Duration
The course is made up of 4 semesters which may be completed within a minimum duration of 2 years and a maximum duration of 4 years.