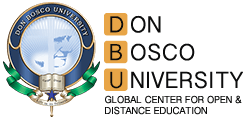 In response to the Global Corona Virus COVID-19 Outbreak, our teams across offices are taking graded steps to minimize exposure to all team members and all other parties with whom we have daily interaction. While there should be no impact on most online processes, you may experience delays in offline processes, including approvals, shipping etc. We're sure that we shall have the full co-operation and support of our Student Community as we navigate this situation. Stay Safe!
DBU Global, Assam Don Bosco University, Airport Road, Azara, Guwahati , India 781017
The Degree Programs at DBU Global are designed for the working professional of the 21st Century. Each program is composed of carefully chosen courses, hand-picked for their relevance to the global corporate and business environment today.
For instance, the Management Programs at DBU cover topics relevant to both the complex financial structures that companies operate in, as well as the constant strategic and innovative maneuvers that a business has to adapt with to stay competitive.