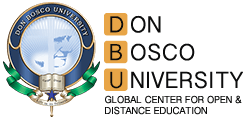 In response to the Global Corona Virus COVID-19 Outbreak, our teams across offices are taking graded steps to minimize exposure to all team members and all other parties with whom we have daily interaction. While there should be no impact on most online processes, you may experience delays in offline processes, including approvals, shipping etc. We're sure that we shall have the full co-operation and support of our Student Community as we navigate this situation. Stay Safe!
DBU Global, Assam Don Bosco University, Airport Road, Azara, Guwahati , India 781017
A Bachelor of Commerce is an undergraduate degree in commerce. The Bachelor of Commerce degree is designed to provide students with a wide range of managerial skills, while building competence in a particular area of business.
Students are exposed to general business principles, taking courses in accounting, finance, business management, human resources, marketing, and economics; some programs also require (business) statistics, (introductory) calculus and information systems.
Eligibility
Candidates who have passed Class XII in any stream or
Candidates who have passed Class X and have successfully completed three years Diploma course from a government recognized body.
Program Duration
The course is made up of 6 semesters which may be completed within a minimum duration of 3 years and a maximum duration of 5 years.