Useful Information & Instructions
As a response to the outbreak of Covid19 and in accordance with Government's instructions on a nationwide lockdown, the University suspended all activities on campus. However, during this lockdown the University quickly adapted itself and conduct online classes, tests and competitions. As a number of families in the villages surrounding the University campuses struggled amidst shortage of food supply. Food packages were delivered to a number of families, with a permission from the local authorities.
Some activities carried out so far are given below:
Distribution of Food Packages:
With many families being forced to stay at home to prevent further spread of Covid19, a new challenge was afoot – shortage of food. The University got permission from local authorities to distribute food packages to those who need the most. Families were identified by the local authorities, food packages were prepared by volunteers from the University and were distributed to 1500 families. Food packages were also distributed to stranded construction workers and tea garden workers.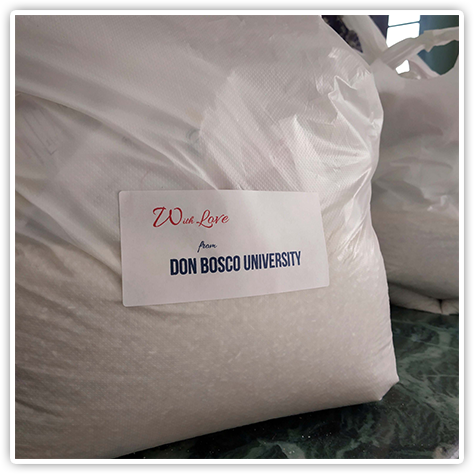 The villages covered are Hatimura, Upper Tapesia, Amgdin, Belguli, Bamunkhat, Khulkhuria, Uralbasti, Sonaru Batali, Laflonggaon, Damrapathar, Hirapara, Ghogua, Hohara and Somata under Sonapur Circle and Keotpara under Azara Circle
We are grateful for the assistance from Sonapur Civil Administration led Ms. Jennifer Yasmin Choudhury, SDC, Sonapur Circle.
Short Film Making Competition
The University organized a Short Film Making Competition with messages of HOPE as we stand united against Covid19. Watch the video here www.youtube.com/user/ADBUGuwahati
Covid19 Tracker and Self Diagnostic Test
With the rising number of Covid19 cases in many parts of the world, self-awareness can be a handy tool in our fight against this elusive disease. CLICK on this link for a self-diagnosis test - www.bit.ly/3dxdy0d. This is a joint initiative by our students from Engineering Departments. The website gets updated every few minutes and has many useful features like – covid19 treatment centres in the state, home quarantine tracker and it serves in two languages of Assamese and English.