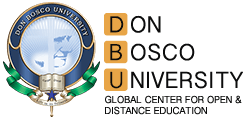 DBU Global, Assam Don Bosco University, Airport Road, Azara, Guwahati , India 781017
Certificate and Diploma Course
Certificate and Diploma Course on Communication for Pastoral Leadership (CPL) offered by the CBCI Office for Social Communications and the Assam Don Bosco University -
In today's world driven by Information Communication Technology (ICT) it is impossible to think of any effective pastoral ministry without adequate formation in social communication. For this reason, the church insists on formation of all its personnel in communication as indispensable. Education and training in communications should be an integral part of the formation of pastoral workers and priests.
In today's world, so strongly influenced by media, Church personnel require at least a working grasp of the impact which new information technologies and mass media are having upon individuals and society. (Aetatis Novae, 18).
Pastoral planning for social communication should make provision for the training in internet in the formation of seminarians, priests, religious and lay pastoral personnel as well as teachers, parents and students. Such training should go beyond teaching techniques but must enable individuals to develop standards of good taste and truthful moral judgment, an aspect of conscience formation (Church and Internet, 7).
The Statement of the Catholic Bishops' Conference of India (CBCI) Assembly 2004, on the theme: "Called to be a Communicating Church" emphasised the importance of training and formation for all Church leaders: "A proper formation programme should be arranged for all in the Church. All leaders of the community – bishops, priests, religious and lay leaders- should get adequate training in communications so that they can effectively discharge their duties (17).
The Certificate and Diploma Course on Communication for Pastoral Leadership (CPL) being offered by the CBCI Office for Social Communications and the Assam Don Bosco University is a great opportunity to respond to the challenge communication places before us.